Rogues Gallery would like to thank the Windlesham Dawn Lodge and everyone who helped make the fund raiser for Woking Hospice on Saturday 5th March a great success.
The Dance was held at the Windlesham Club and Theatre – a special thank you goes out to Bob and Tony for all their help with the set up and lighting. Our Caller for the night was the excellent Mr Alan Simpson who did his usual first rate job of getting one and all on their feet dancing.
Special thanks goes to Margaret, Craig and Malcolm Berrido who did a splendid job providing everyone with a ploughman's supper. Also, Steve Barney and Richard Creber ran the raffle for us and raised a wonderful sum (see below).
On the night we raised £678.06  – with the raffle raising a whopping £400! The final total, with additional donations coming from the Windlesham Dawn Lodge, was a massive £1078.06.
The Club Captain, Richard Creber, presented the cheque to Woking Hospice on 15th April.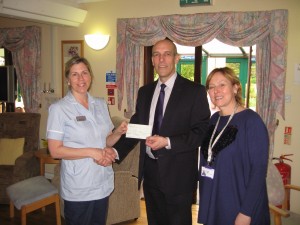 Thanks again to everyone who came along and supported this noble cause!